Explore the Wonders of the Cinque Terre

Immerse yourself in local traditions, indulge in the authentic cuisine, and embark on unforgettable adventures with our strategic location. Whether you're seeking scenic trails, leisurely walks, or the wonders of Cinque Terre, our accommodation is the ideal choice. Experience the comfort and convenience of a perfect launching pad for your Cinque Terre journey.
Discover our rooms
Experience comfort, elegance and charm in an ideal location to explore the breathtaking Cinque Terre.
Our Amenities
Cinque Terre Gateway represents the realization of a visionary hospitality project, providing guests with an intimate and authentic experience. Our accommodation facility has been thoughtfully crafted to ensure your absolute comfort, while embracing the timeless charm and elegance that define our establishment.
Parking
Private Parking
(Reservation required)
Breakfast
Start your day with a delicious breakfast experience at the café situated right outside our building.
Shuttle Service
Our shuttle service ensures hassle-free transportation to your destinations, providing you with a stress-free journey.
A/C
All rooms are air-conditioned to offer you optimal comfort during your stay.
Free WiFi
Enjoy seamless connectivity with complimentary wireless and Ethernet connections available in every room as well as in the common areas.
Confort Kit
Experience a touch of exceptional care with our premium courtesy line, providing you with top-quality products for an even more comfortable stay.
Line Cortesia
A touch of special attention. Our courtesy line offers quality products to make your stay even more comfortable.
Minibar
To make our guests' stay more pleasant, we have installed a minibar in each room.
Find out what our guests say about us
Ocasio Mulero Cristina
24/05/2023
Hotel estupendo, muy bien ubicado delante de la estacion para cinque terre y cerca del centro. Bufet de desayuno muy bueno. Habitación impecable
Francisco Suver
23/05/2023
The property was in a good location just 5 min walk at train station to visit the cinque terre ! The room was very clean and an amazing Bathroom and very luxury room!
Room is very clean and good size. Price was also reasonable. The staff was very nice and extremely helpful. Great recommendations, and general information.
Rooms and lobby area were great. Modern and excellent seafront location especially close to boats for Portovenere and Cinque Terre. The staff was very helpful and courteous, beginning with check-in to leaving our bags at the desk for an afternoon following check-out. The breakfast offered many choices, from eggs to cereal to pastries. I would return.
Chibuike Austin
17/05/2023
It was a breath of fresh air to have a hotel so professional and caring we loved our stay. The property was in excellent condition and breakfast was excellent.
Hadiza Ibrahim
16/05/2023
The place was Amazing!!! Walking distance from the train station and in the middle of town. The rooms where very clean and comfortable. The owners where very helpful n friendly. Totally recommend
Og Alexander Effiong
15/05/2023
We had a lovely stay. The location is perfect. Close to the train station and a short walk to the ferry to see the Cinque Terre. Mike is a wonderful host with lots of tips and information. The bed was very comfortable and the room very clean.
Room is super clean and the location makes it the perfect base to take the train and explore Cinque Terre! I definitely recommend the place!
Lovely, clean and welcoming. Room was spacious and had everything we needed including a kettle and extras. Good location near the station, centre and restaurants. The most important for me was that it was absolutely quiete and possible to make the room dark. The daily extras like a bottle of water and cake was nice to find by returning after a hot day.
Great location very near train station. Rooms were amazing! The location is absolutely superb for traveling to Cinque Terre and enjoying La Spezia. The host was the friendliest and most helpful host in our six country family vacation. Everything is so clean and comfortable. We will absolutely come again! Highly recommend!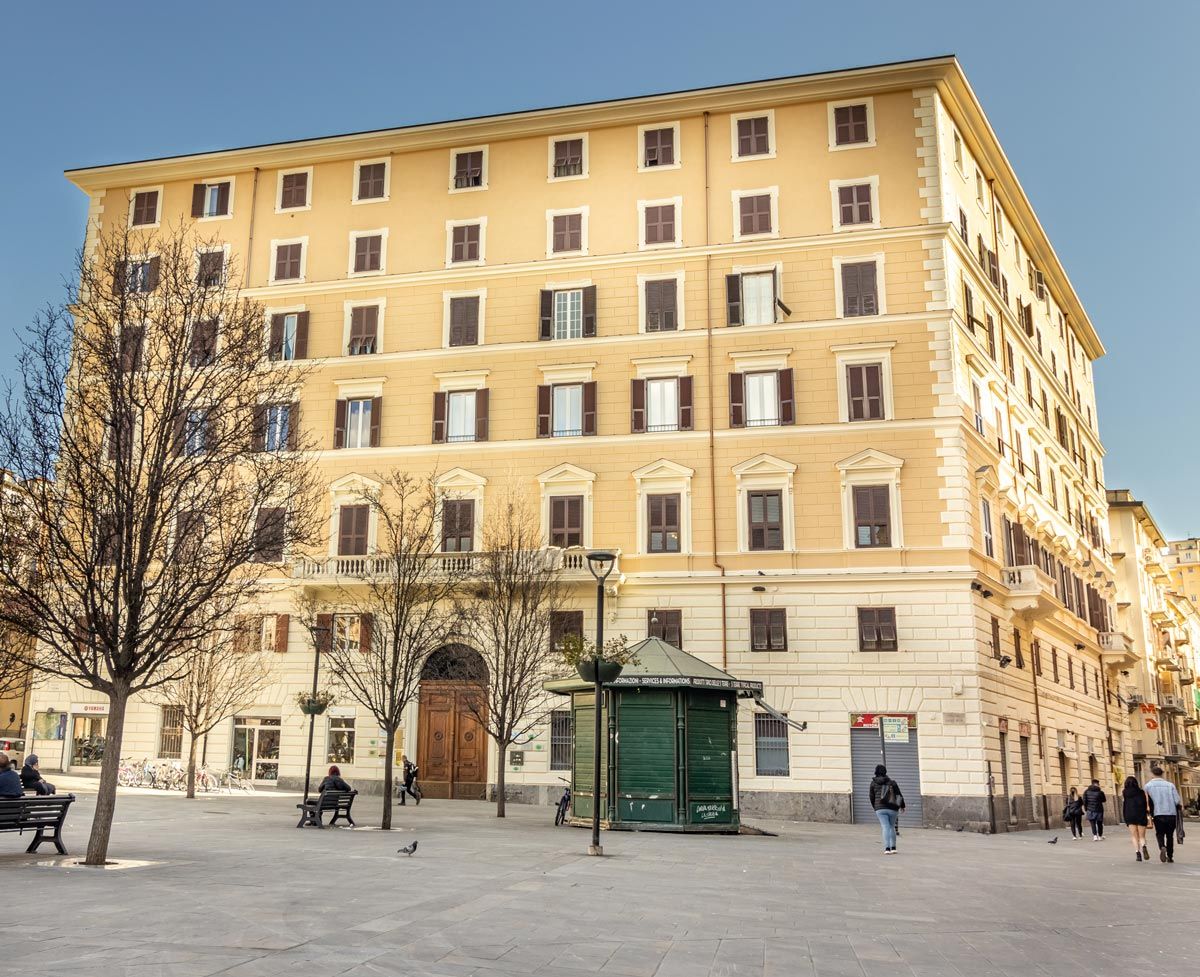 Cinque Terre Gateway
La Spezia P.zza Saint Bon 15