Points of Interest
La Via dell'Amore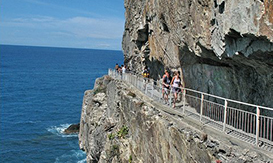 The most famous path of the Cinque Terre links Riomaggiore to Manarola; is a stretch of the longer Blue Trail crossing the coast of the Park. Via dell'Amore (the romantic name came later) was built, between 1920 and 1930, by the workers of the new railway line Genoa-La Spezia-Pisa.
---
The crib of Manarola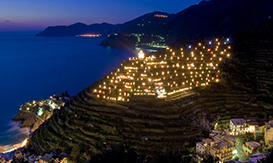 During the Christmas season Manarola offers a spectacle of great beauty. Little upstream of the center the lights of a nativity scene made up of about 300 sized images, made with recycled materials. Designed and built by Mario Andreoli, a local enthusiast, the Nativity continues to widening every year.
---
The sandstone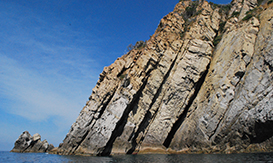 The coastline of the Cinque Terre is made up of sandstone, which is present with four geological formations and different form of the varied landscape. Between Monterosso and Punta del Persico prevails a boulder by the obvious stratification (the most striking are those along the Via dell'Amore), between Manarola and Montenero emerges a flysch formation called "Canetolo", formed by shales intercalated with sandstone, marble and limestone. Around Punta del Persico appear shale polychrome.
---
Places of Eugenio Montale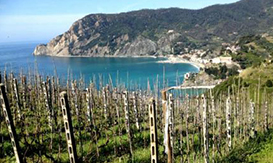 Eugenio Montale, one of the most famous modern poets Italian, spent his summers in Monterosso al Mare. From the time of Ossi di sepia, collection of poems published in 1925, the Nobel Prize in Literature received in 1975, the writer set in Monterosso "The house of the Customs officers", Punta Mesco and various other works.
---
The Sciacchetrà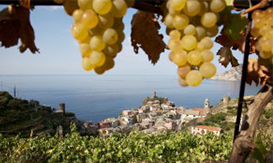 Among the symbols of the Cinque Terre there is also this rare wine. Sciacchetrà, a white raisin wine that is produced in the territory . In his preparation Bosco, Vermentino and Albarola, which are dried in closed and well ventilated shelters. Sciacchetrà has to be released after two or three years from harvest.
---
What to eat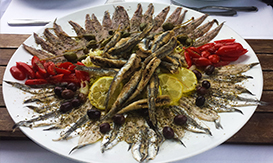 The specialties of the Cinque Terre are basic and simple dishes, which keep the flavors and tastes of the products of the territory. Fish is without a shadow of doubt the highlight of the Cinque Terre: bream, anchovies, squid, sea bass, octopus, cuttlefish and squid, grilled, fried or baked, but still tasty. All the specialties of the coast are always enhanced by herbs grown throughout the territory as marjoram, oregano and thyme, and enriched by genuine local olive oil. Very present in the Cinque Terre recipes also vegetables, often locally grown, which create delicious soups and dishes made with chard, borage, artichokes, cabbages, leeks and potatoes. Meat courses are few and limited to rabbits and poultry. We suggest that you accompany all dishes with fine 5 Terre DOC wine white and finish the meal with a glass of Sciacchetrà, the wine that the world envy.
Useful Informations
Ente Parco Cinque Terre
Via T. Signorini
19017 Riomaggiore (SP)
Tel: 0187.760000
Fax: 0187.760061
info@parconazionale5terre.it
Numbers and Addresses
Punti informativi di accoglienza:
Presso stazioni ferroviarie
La Spezia
Tel. 0187.743500
Riomaggiore
Tel. 0187.920633 e 762187
Manarola
Tel. 0187.760511
Corniglia
Tel. 0187.812523
Vernazza
Tel. 0187.812533
Monterosso
Tel. 0187.817059
Altri punti
Colle del Telegrafo
Tel. 0187.760561
Ufficio accoglienza Bivio di Biassa
Tel. 0187.760520
Corpo Forestale dello Stato
Via Montello 351 19017 Volastra (SP)
Tel. 0187.760031
Via della Fegina 34 bis 19016 Monterosso (SP)
Tel. 0187.818270
APT Cinque Terre Golfo dei Poeti
Viale Mazzini 4
19122 La Spezia
Tel. 0187.254311
www.aptcinqueterre.sp.it
info@aptcinqueterre.sp.it
Navigazione Golfo dei Poeti
Via Don Minzoni 13
19121 La Spezia
Tel. 0187.732987