Art and Culture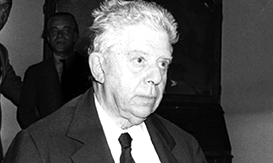 Among the many writers who have cited the Cinque Terre in their works (Ursone, Dante, Boccaccio, Vincenzo Cardarelli, Telemaco Signorini), the most important of all is definitely Eugenio Montale, Nobel Prize for Literature in 1975, who spent many years of his life at his home in Monterosso. Among the painters must not forget Telemaco Signorini, artist of the nineteenth century, considered the founder of the Macchiaioli, who lived and worked in Riomaggiore many years of his life, and Silvio Benedetto, a contemporary painter, author of a large "murals" in front of the railway station of Riomaggiore, as well as other works of art.
HISTORY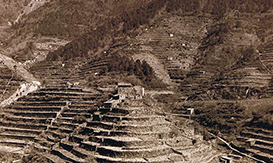 The first historical documents date back to the eleventh century in the Cinque Terre. Monterosso and Vernazza as first as other villages borned later, under the military and political hegemony of Genoa. In the sixteenth century, to counteract Turkish attacks, the inhabitants strengthened the old fortifications and built new defensive towers. Since the seventeenth century the Cinque Terre knew a decline that was reversed only in the nineteenth century, thanks to the construction of the Military Arsenal of La Spezia and the construction of the railway. The railroad let villages escape their isolation but also led to an abandonment of traditional activities. The consequence was an increase in the poverty that drove many to emigrate abroad, at least until the year Sixty, when tourism development brought well-being.
DRY STONE WALLS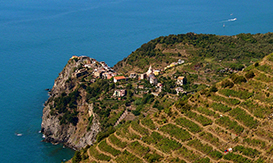 The Cinque Terre landscape today has not changed a lot compared to the past. The transformation due to the work of the man who for centuries has tried to make it space, is most evident in the hills: a dense network of terrace bands, called "cian", interrupt the steep slopes. Flat supported by stone walls, on which stand vineyards, stairways, farmhouses, mule paths. A great work of environmental engineering: 4,200 meters cubes of walls – about two meters high – per hectare, for a total of 8,400,000 meters cubes; 3,163 linear meters of walls per hectare, for a total of 6729 km of walls, greater than the radius of the Earth. The fantastic location of the territory, sunny and sheltered from north winds, "cian" have always been cultivated especially to grow grapes and olive trees, with the production of oils and wines of great quality.